November 15th, 2012
The show will be Saturday November 17th from 4pm-10pm at 2902 Race Street, Fort Worth, Texas. The show will consist of over 40 local DFW artists. There will be food and drinks. There will be live music. There is a 5.00 donation to enter. Funds will be donated to the Tarrant Area Food Bank. Each 5.00 entry will receive a raffle ticket for a piece of artwork! Plus, bring in three canned food goods and get an extra raffle ticket! Feed the hungry, and a chance to win one of over 40 art pieces and gifts donated from local businesses being raffled off. (must be present to win)

Artists, food and drink vendors wishing to sign up and be a part of this event, sign up on the website listed below. Artist drop off/hang will be the Friday before. Inside: for 15.00, each artist will get 6 linear feet of wall space to show whatever they wish. (no painting on the walls) You may also put a table against the wall at your six foot space as well. Outside: 10x10 booth spaces are 30.00 Food and beverage vendors as well as local businesses will be allowed a booth space outside or in front of the building for 30.00 We will update the artist, live band, dj and food vendors every week! If you wish to play at this event contact Nick at info@art-hunger.com

Inside the middle gallery, live DJ's will entertain you with a diverse group of genres as well as live MC's performing.

Art will be on display and for sell both inside and outside of the buildings. Three public restrooms will be available inside. Live music will be in the back with a large grass area to sit and enjoy. So bring a blanket and chairs and enjoy the evening. This is a family friendly event, everyone is welcome. 5.00 donation entry, kids under 5 yrs get in free! Dogs are allowed.

There will also be a graffiti wall installed outside for anyone to paint on sponsored by Molten Metals Foundry.

November 15th, 2012
I have started a new series that is titled HEROES. This series will be real people that have done or are still doing more for this world than most do. They are all heroes because they try and make this world a better place for all of humanity. I have decided that from each original sold from this series I will donate $50.00 to the charity of your choosing. Help make this world a better place and buy a piece of art.

As mentioned previously I have arranged my paintings into series. I have them arranged in groupings of 12 yet if you look at my galleries you will see that most are not at that number yet. So that is my current project, too complete the series that I have started (which included my Heroes series as well.) So for now I have quite a bit of work to do to achieve my goal. But it is the goals that continue to push a person. So I will continue to paint onward. I will try to not add any more galleries until I have finished the ones I have started.


March 8th, 2012
I have now been painting for one year. I know its hard to believe that its only been one year but I did start my first painting of Gandalf around this time last year. I have done art my whole life but painting is new to me. I can say this that I love to paint and do not plan on stopping any time soon. But it is time for me to cast of the training wheels and evolve to the next level. I have done 61 paintings this year and will be showing off my last portrait of celebrity work very soon. That being said I will still do a portrait from time to time but I will be moving my focus to fully original artwork. I would like to try my hand at Fantasy illustration once more now that I have learned so much from my work this year. I also wish to do some more realism but from photos that I have taken. What pushed me to this decision, a lot of things I will use exercise as an example. When you work out you at some point find a comfort zone and if you remain in that zone for too long you stop getting any benefit from you work out. You have to push your self and change the exercises you do to push beyond your limitations. The same goes for Art. I also want to work towards Art Shows and they all stress that Original work is a must. I also want to get my hands on some clay... So I'm off to explore my world thou art once more as I turn the page on this chapter I hope and pray that my next one will be better that the last...
November 10th, 2011
Just finishing up on a commissioned piece. I will be doing Bettie page next. I always wanted to do a nude but I have chosen to hold off for a while yet. I found a better image of her that is iconic and should come out great so I hope to start her to night. I have plans to do other icons this month as well. Elvis, John Lennon and a few others. Hopefully I can get to them all. I am also excepting commissions currently so if you are looking for a painting as a gift. Let me know. I have discounted rate for this month of $300.00 so don't wait.
October 12th, 2011
I have been thinking a lot about how i want to process in my painting. This is a relativity new endeavor for me so the beginning has been a little bumpy. But I have a plan finally. I will be doing paintings in series of 12 paintings. I have a little bit of work to do to get the work I've started into groups of 12 but it shouldn't take to long. So far I will have 4 galleries (series) of paintings but only 39 paintings. Women , Legends of Music, Horror, Action...(might change the names a little)

This will work out a little better than doing a series that lasts a whole month because commissions can take me off the series and not take away from the amount of work that will make it into any one series. It will let me continue to ask what to add to my series if I wish and will be a good way to organize my work. I may refine the series as well in other words I decide to do a whole series of one person like Amy Lee then I would pull the paintings I have done from the galleries and add new one to fill the slots that I have taken. Anyways I will deal with that If i decide to go down that road.

This does mean that my work to finish the 5 galleries I have will most likely push into November but once the galleries are complete I will move back to my original Idea. My 6th series will be women.


September 27th, 2011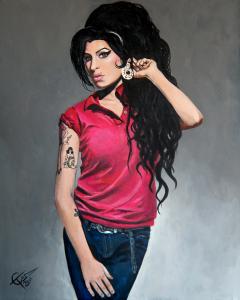 Well I was commissioned to paint Amy Winehouse which would make the second time I painted her. She came out wonderful I really put a lot of time into this one and it shows. The day after I posted it (Yesterday) I sold a print! So I can truly say that it was a success. Im already back on my Halloween series. Arnold is almost done (evil Robot Winner) should be posting him tonight.

September 21st, 2011
Each month I will be changing up my theme for my art. This current month I asked questions about Halloween to generate my subjects and painted them. For October I have some more Halloween images to paint, I will only ask one question and continue to take off the top winning answer until the month is done only rule will be the subject must represent the season of Halloween or October. In November I will be asking questions and painting only women for the whole month...In December I plan on changing to Landscapes I wish to paint some locations that are truly awesome and cant wait to actually paint some of these. I also plan on in months to come doing more portraits of musicians, movie stars, and Athletes. I even plan on tackling still life art. Anyways this new plan to do paintings on theme rotation should be fun. So keep an eye out. As always commission work will take me away from the main work but as soon as I finish any commission I will return to the project.
September 18th, 2011
I have started my first few auctions. I plan on keeping a few up each week to see how they do. If I don't get a reasonable amount for these paintings I will not continue to sell through this source. So lets see how this works out. So far I have three up Lord of Darkness, Freddy Kruger, And Bram Stoker's Dracula.


September 13th, 2011
I recently finished Bram Stoker's Dracula and jumped right in to Frankenstein. Lately I have found it quite fun to ask my fans which painting to do on a topic. This will continue for a little longer but I do have a few solid ideas to work on for my Halloween series so at some point I will have to break off for the questions. I will be painting Alien next and although I haven't finalized the Devil question Tim Curry looks like a clear winner.

I have been selected to be an artist on the website http://copperflame.com is the near future and once I know the actual dates I will let you all know.

I have moved my focus to this website now and have some items for sale on Etsy. If you have any questions about my work feel free to contact me.